We want to make sure you are familiar with some of the foundational frameworks, tools, and tactics we use at Chilli.
Below we will walk through a summary of content that will help you learn the basic principles of these concepts, so you feel confident in your marketing approach. It truly is designed specifically for predictable, actionable growth and optimisation.
There are a few frameworks Chilli uses to help our clients answer 3 critical questions, the answers to which will form part of their digital strategy:
1. Who is my target AUDIENCE(s)?
2. How do I COMMUNICATE my product/service's VALUE to my audience?
3. How do I PREDICTABLY and PROFITABLY acquire customers?
With that in mind, let's dive into the first critical question, and the framework to help you clarify your answer.
Question 1: Who is Your Target Audience?
The first, and probably most important question you need to answer is "Who is your customer?" Understanding your customer is essential to effective marketing.
Luckily, we have a tool to help you break down your customer's, so you can understand their motivations, interests, and what makes them want to purchase. It's called the Customer Avatar Canvas.
Once completed, you will have a more tangible definition of your ideal customer and will have answered these big questions…
Who is your ideal customer?
What are their current struggles?
What is their ideal "After State"?
The more defined the information you have to describe your ideal customer, the easier it will be to find and speak to them through advertising.
Question 2: How Do You Communicate Your Value to Your Customers?
Now that you know who your audience is, it's time to start tackling how you can effectively communicate with them. If you are in marketing or sales, you are in the business of selling transformations. Not products, services, deals or quick wins. Customers don't really care about all that. Customers want to know how all those things will help transform them into the person or business they truly want to become.
Working together we will be your guide to creating effective copy and messaging for your campaigns, advertising and more. We can give you a process for looking at your offer and figuring out messaging that will really resonate with your customers.
Question 3: How Do You Create A Predictable and Profitable Strategy to Acquire Customers?
At this point you will have a thorough understanding of your customer and what words and messaging will make them engage with your business. Now it's time to create a repeatable strategy to attract, engage, and nurture an army of successful customers.
The flagship framework we use at Chilli is the Customer Value Journey. The Customer Value Journey (or CVJ) is an 8-step path that your potential and current customers' follow as they discover your business, build a relationship with you, become buyers and eventually your loyal fans. It's an important document, because it gives you an easy to follow process for attracting, converting, and keeping your best customers.
Here's a glimpse of what the CVJ looks like: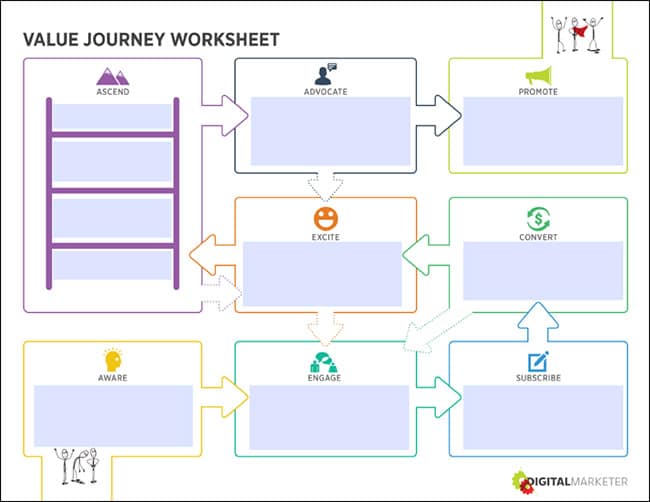 All your hard work learning about your customers will help you create this resource, and everything you do to optimise and improve your marketing will be built, based on this foundation.
Remember each stage represents a touchpoint with your customers, so you'll want to document how, and by what tactics/channels/means you are interacting with them.
Every stage of the Customer Value Journey has a particular question tied to it; we keep these in mind when filling out your journey with you:
Aware Stage: How do prospects find out about your brand?
Engage Stage: What content can you leverage to turn a glance into a stare?
Subscribe Stage: What valuable chunk of content can you give in exchange for your customers contact information and permission to follow up?
Convert Stage: How can you get your prospect to make a micro-commitment that gives you the opportunity to deliver an Ah-Ha moment?
*Note: An Ah-Ha moment is a when the true core value of your product/service 'clicks' in the mind of the customer – the 'penny drop' moment *
Excite Stage: What are some Ah-Ha moments that transform your product/service from a 'nice-to-have' into a must-have?
Ascend Stage: What is your core, flagship offer, and how will you continue to deliver value after the first sale is made?
Advocate Stage: How will you encourage your happy and successful customers to say nice things about your brand?
Promote Stage: How will you turn your best customers into your marketing partners?
The idea of having to sell your business's products/services can feel quite daunting if you aren't used to it, so we wanted to provide you with some helpful information on connecting your marketing efforts with your sales efforts. That way you can seamlessly transition between the two and turn more of your leads into sales.
By utilising these concepts, you can have predictable, scalable growth that will bring you endless opportunities to help your businesses succeed!
Our team is experienced in identifying and creating your ideal Customer Avatar, this is followed by development of your Customer Value Journey. With these two documents complete you have a road map for your marketing strategy and journey to success!
Want to learn more? Get in touch today for a free initial consultation with our strategic team.